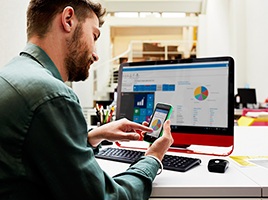 The company's ERP platform for small and midsize businesses gains new predictive analytics capabilities and an Outlook integration that streamlines invoicing.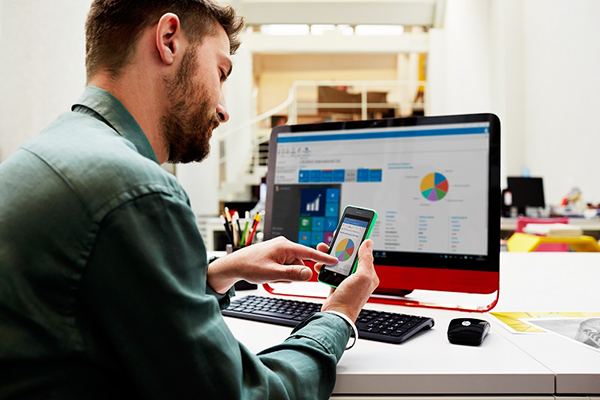 Dynamics NAV 2017, Microsoft's ERP software platform is now generally available. In some significant ways, the new release mirrors how cloud-enabled analytics and machine-learning technologies are permeating the company's business software offerings.This time, instead of delivering those capabilities to corporate customers, Microsoft is aiming them at the market for small- and midsize-business (SMB) software solutions."This latest version of our business management solution for small and midsize businesses is designed to help organizations create greater efficiencies, streamline business processes and empower employees to react quickly to changing business needs with intelligent insights anywhere and on any device," Paul White, general manager at Microsoft Business Solutions, wrote in an Oct. 28 announcement.Building on the Power BI integration from last year's release, Dynamics NAV 2017 features embedded reports and dashboards and self-service tools that allow users to create reports of their own. Business intelligence tools are also present in the software's Role Center pages.
Dynamics NAV 2017 also enlists Microsoft Cortana Intelligence technologies to deliver predictive analytics. Cortana Intelligence encompasses a suite of advanced analytics, artificial intelligence (AI) and big data solutions from Microsoft.Customers including Rolls-Royce and Schneider are using Cortana Intelligence to gain efficiency-boosting insights into their operations and explore business opportunities. In Dynamics NAV 2017, Microsoft is using the technology to help SMBs see the effects of seasonality on their businesses and predict cash flow, said White.A new Microsoft Office integration enables Outlook to function as a hub for the "quote-to-cash" process with an included add-in, White added. From setting up vendors to submitting invoices, users can now manage the entire process within the client software. In addition to working with calendar appointments with customers or clients, the add-in can collect information from attachments."The add-in works for attachments in mail as well—you can send the email attachments directly to the Incoming Documents list and send the documents, such as PDF files, to an Optical Characters Recognition (OCR) service," the Dynamics NAV team explained in an MSDN blog post. "Here the documents are turned into a machine-readable format so that the invoice information can be added automatically to Dynamics NAV—this reduces the risk of errors and as a result increases productivity."The software configuration process has also undergone some streamlining. Assisted set-up wizards help users import data and link the software to Office 365, Dynamics CRM Online and Cortana Intelligence with a minimum of manual intervention.Finally, Dynamics NAV 2017 is compatible with PowerApps and Microsoft Flow.PowerApps is Microsoft's business app builder tool for non-developers, or so-called "power users." It enables a rank-and-file professional to create apps from available data sources to solve a business problem or fulfill a need without the talents of a professional coder. Flow is the company's new IFTTT-like workflow automation platform. Both will be generally available Nov. 1.
Author: Pedro Hernandez
https://erpnews.com/v2/wp-content/uploads/2016/11/microsoft_dynamics_outlook-268x200-1.png
200
268
webmaster
https://erpnews.com/v2/wp-content/uploads/2018/10/[email protected]
webmaster
2016-11-01 00:00:00
2018-11-14 14:12:18
Microsoft Dynamics NAV 2017 Adds Cortana, Outlook Capabilities