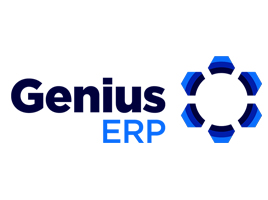 Managing a custom manufacturing plant isn't easy—you've got a busy shop floor to run, engineering and customer changes to keep up with, jobs to complete, and rapidly approaching deadlines that you need to meet. This is why an ERP is an essential tool for small- to mid-sized custom manufacturers. ERPs are truly the workhorse of the manufacturing industry and can help you realize your goals and grow your business.

Custom manufacturers specifically need an ERP, like Genius ERP, that has been developed and built exclusively for them: A manufacturing-specific ERP will include the features and functionalities that a custom manufacturer needs to manage inventory levels, efficiently schedule a shop floor, and complete more jobs, but will also include features to help manage the sales process, customer relationships, as well as reporting, finances and accounting.
A good manufacturing-specific ERP will help you manage every aspect of your shop, simplify your manufacturing processes, complete more jobs on time, and make your business more profitable. Whether you call what you do Make-to-Order, Configure-to-Order or Engineer-to-Order, if you're a high-mix, low-volume custom manufacturer you will benefit from an ERP.
To really understand how the right ERP will help make custom manufacturing easier, we'll follow a typical job through a shop, to see how an ERP helps move a job along at every step of the process, making your shop more efficient.
CRM
Let's start with your sales team. A CRM helps your sales team stay organized, giving you straight forward pipeline management, simple communications, and the ability to effectively track leads and opportunities.
Quoting and Estimating
Next, an ERP will streamline your quoting and estimating process by quickly generating an accurate quote based on price or cost, and your Bill of Materials (BOMs). This helps custom manufacturers create more accurate quotes and estimates, which can be a big problem for manufacturers that never build the same product twice. Using accurate data and built-in integrations, an ERP takes the guesswork out of the quoting and estimating process—meaning you'll win more jobs, build better relationships with your customers, and ultimately increase your bottom-line.
Quote to Job
When your customer is ready to sign, an ERP helps you move seamlessly from quote to sales order. You will be able to easily generate a job and seamlessly launch your MRP to drive material, work-centers and labor requirements.
Engineering to Manufacturing
Now let's get your engineers involved—which as a custom manufacturing shop, is a big part of your manufacturing process. Many ERPs, even manufacturing-specific ERPs won't include engineers in the loop, leaving out a vital portion of your manufacturing process. As the only true Engineering-to-Cash ERP, Genius ERP alleviates design bottlenecks allowing you to engineer products from scratch or use historical data to design custom products and anticipate resource requirements with greater accuracy.
And with Genis Solution's proprietary CAD2BOM system you can turn CAD models into fully itemized, complex BOMs with one click, giving you everything you need to be ready for procurement and production. "We chose Genius ERP because we are a custom, make-to-order manufacturer, and Genius allows us to design and release parts of the machines in Solidworks as they are complete to production," says Jennifer Hinds of Hinds-Bock Corporation, a custom food equipment manufacturer. "This allows us to manufacture complex machines in less time by getting a jump start on long lead items using just in time purchasing and production scheduling."
Production Scheduling and MRP
On to scheduling, where an ERP aligns your whole company and help you manage the priorities that truly drive your organization. An ERP gives you the tools to schedule work centers, personnel, required parts and tools based on your BOM and your actual workload and capacity. Plus you can monitor and improve work center performance and availability using integrated real-time data.
Purchasing
When it's time to purchase, an ERP increases your negotiating power by aggregating purchase orders (POs) and giving you the information you need to challenge your vendors based on delivery performance, quality and cost. And because an ERP is always managing your inventory levels in the background of everything you do, you will know what stock you have on hand, and what needs to be ordered to complete a job. You will also be able to create a PO with one click—saving you time and streamlining the purchasing process.
Production
Once you are live in production an ERP will help you maximize throughput and deliver on time by managing every aspect of every job. ERPs help you balance shifting priorities with a fully integrated shop floor system connected throughout your whole company. And real-time data lets you track job progress, identify production bottlenecks and measure system performance.
Job Costing
You'll increase your profitability by accurately measuring job costs, comparing your initial estimate to final costs so you can effectively target profit/loss centers. An ERP lets you use accurate and real-time data and metrics to determine real job costs, and live job costing also allows you to improve on the fly and better predict your profit so you always know where you stand.
Shipping and Invoicing
When the job is done, an ERP helps you coordinate distribution from a single system to ensure error-free shipping, generate accurate pick lists, prepare shipping memos, bills of lading and commercial invoices.
In addition to helping you move a job more effectively and efficiently through a shop, an ERP will also give you the tools to better manage your entire operation.
Accounting
A good ERP system will include all of the key features of an accounting software package, giving you a full-feature, multi-company, multi-currency, complete accounting package that makes it easy to track and manage all of your accounting and financial information. Not only does an ERP give your company all of the benefits of an accounting software system, but because an ERP system is also resource management system that connects your entire operation, you will be able to better track both tangible and intangible assets like human resources and materials. This means your accounting department will be able to produce more detailed and accurate financial reports, which will help you better understand which business lines and projects are profitable.
Management Team
And of course, an ERP will keep your management team on top of everything by delivering real-time visibility across your whole company and empowering your key staff to make better decisions with rich data. You'll be able to leverage more than 100 built-in metrics and KPIs, plus build your own reports with our custom report tool-kit—afterall, it's all about improving the performance of your team.
If you are a custom manufacturer looking to make your business more efficient and more profitable, you need a manufacturing-specific ERP. The right ERP will help you increase throughput, improve efficiency, and reduce costs. Custom manufacturing is complicated, but the right ERP, built exclusively for custom manufacturers will make it easier, and help you grow your business.
https://erpnews.com/v2/wp-content/uploads/2019/09/genius.jpg
200
268
katie
https://erpnews.com/v2/wp-content/uploads/2018/10/[email protected]
katie
2019-09-17 14:54:50
2019-09-17 14:59:00
How to Manage Your Custom Manufacturing Shop Better with an ERP