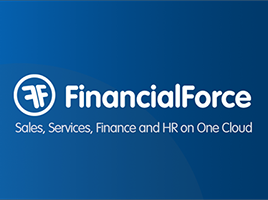 FinancialForce dropped several bombshells in FinancialForce Community Live 2017 in Las Vegas this week.
FinancialForce's new CEO Tod Nielsen and CMO, Fred Studer introduced the latest release of the industry-leading Professional Services Automation (PSA) application and demonstrated how it will light the way for the companies in the new services economy. In addition, a new strategic HCM partnership with ADP, a leading global provider of human capital management (HCM) solutions, was announced that will bring best-in-class payroll and HCM capabilities to its cloud ERP suite and client base.
FinancialForce will also offer new features to its ERP customers using Salesforce Einstein technologies and Einstein's Artificial Intelligence and Machine Learning capabilities.
FinancialForce Reveals Strategy for the New Services Economy with Customers at FinancialForce Community Live
FinancialForce, the leading cloud ERP provider for the new services economy, today revealed its vision for the next generation of service-focused business applications. Customers saw firsthand how FinancialForce would help them navigate the emerging services economy landscape, as well as the critical role cloud ERP will play to help create and support agile business models, strategically align resources, and optimize business outcomes with predictive insights.
The vision was presented by FinancialForce CEO, Tod Nielsen and CMO, Fred Studer on stage at FinancialForce Community Live – the company's annual user conference in Las Vegas.
In addition, FinancialForce announced a new strategic HCM partnership with ADP, key product updates to FinancialForce PSA and expanded use of Salesforce Einstein Analytics. The news included:
FinancialForce Customers Driving the Tools Required to Succeed in the Services Economy with latest PSA Release
FinancialForce Bets on Predictive Analytics for Next Generation of Insights and Reporting
FinancialForce Partners with ADP to Deliver Best-in-Class Human Capital Management Solutions
"Speed is the new currency in the modern global economy, in which businesses are increasingly retooling to deliver services," said Tod Nielsen, CEO of FinancialForce. "Our flexible and agile ERP solutions accelerate innovation and enable organizations to quickly adapt to trends in the market and emerging business models. Today's announcements validate FinancialForce as the leading services ERP platform, and we'll continue to work closely with customers and partners to shape the next generation of ERP solutions for the Services Economy and beyond."
"The pace of change in business across the globe today is relentless, and it's challenging companies in unforeseen ways. Our goal is to help our customers be as prepared as possible to take advantage of the tremendous opportunity the new services economy holds for them," said Fred Studer, CMO of FinancialForce. "As this fundamental shift takes place, businesses have to be able to assess situations in real-time, act swiftly, and evolve with the customer in center view to thrive."
About FinancialForce
FinancialForce is the leading cloud ERP for the new services economy. The #1 ERP native to the Salesforce platform, FinancialForce unifies data across the enterprise in real-time, enabling companies to rapidly evolve their business models with customers at the center. Founded in 2009 and headquartered in San Francisco, FinancialForce is backed by Salesforce Ventures, Technology Crossover Ventures, Advent International, and UNIT4. For more information, visit www.financialforce.com.
https://erpnews.com/v2/wp-content/uploads/2017/06/financial-force268-1.png
200
268
webmaster
https://erpnews.com/v2/wp-content/uploads/2018/10/[email protected]
webmaster
2017-06-23 00:00:00
2018-11-14 14:10:04
FinancialForce is faster than a speeding bullet – Flash News in Community Live 2017