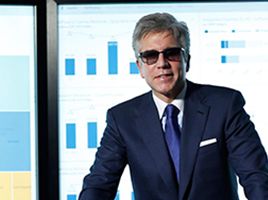 From the moment SAP CEO Bill McDermott stepped onto the stage at the largest ever SuccessConnect 2016 in Las Vegas this week, he inspired and entertained the record breaking audience.

Talking with Mike Ettling, President of SAP SuccessFactors, McDermott regaled the crowd with stories of how he made the most of every opportunity, from his roots as a teenaged delicatessen owner in Long Island, to his first job in sales pounding the pavement carrying heavy copiers and typewriters, to his current role as leader of the world's largest software company.
On his first job interview… "All these kids from Ivy league schools were there, and at first I said I may have overshot a little, promising my dad that I'd come home that night with an employee badge. But what do you do when you know it's going to be a tough road? You can just be you, and do what you do every day. So I started asking these other kids what their goals were. They told me, I'm playing the field, interviewing here and there. And I thought, this is my day because I want it so much more than you do…It all began with an opportunity. If you get an opportunity you can find your dream. And there's lots of young people who want to find their dream."
On having SAP's CHRO, Stefan Reis, report to him… "We spend 90 percent of our time talking about people issues, including if we have the right leaders, can this person scale, is that person making progress, what's happening with the next leaders in the pipeline. All of the complicated issues around humans dictate the pace of how a leader runs the company. The most important position on the management team in that context is the CHRO."
On the impact of youth on the workplace… "When you think about youth and the youth movement, your brand and the way you manage your company has to be stylistically authentic. Young people want to know who they're working for, and the values and the imperatives of the company. The younger we get, the better we get as a company because it invigorates the culture."
On SAP's commitment to HCM… "SAP has a very large R&D budget and the biggest chunk goes to HCM.
On the larger role of HR in collaborative leadership… "The relevance of SAP is not just that we're totally committed to being a market leader in HCM, but with the digital boardroom, we're bringing managers together not just from HR but from facilities, sales, finance…giving HR an opportunity to change the way companies run."
On SAP's cloud strategy… "We knew cloud computing was the pervasive theme of the 21st century, and the first move was to acquire SuccessFactors. We thought that if we learned to cannibalize ourselves first, we might just have an unbelievable run in HCM. Then we saw the fastest growing group of workers were contingent workers, which led to Fieldglass."
On his eye injury last year… "What you learn about life comes to full focus in moments of great challenge. Your mind is incredibly rational, and always wants to protect you and keep you away from pain. Then there's that thing inside of you, that will that wants it more–true grit and that's the thing that really forms you. People said to me, what did you think about? I thought about my wife and kids, my friends, and 83,000 colleagues that need me and I need them. I thought I have to get up and get on with it. People said that must have brought out your character. But it didn't bring out my character, it was my character. Everything about my entire life came into full focus for survival."
McDermott's advice to the HR professionals that afternoon was simple: "The best part of you is you. You've done a lot of things in your life–successes and set-backs and you've had to stand up to them. Stay in touch with your inner voice. Winners have to have dreams, goals, and a true north that's uniquely and only yours. This world is all about having a purpose tied carefully to a vision and a strategy."
Author: Susan Galer
https://erpnews.com/v2/wp-content/uploads/2016/09/SuccessConnect-268x200-1.png
200
268
webmaster
https://erpnews.com/v2/wp-content/uploads/2018/10/[email protected]
webmaster
2016-09-08 00:00:00
2018-11-14 14:13:48
SAP CEO Bill McDermott Gets Personal at SuccessConnect 2016