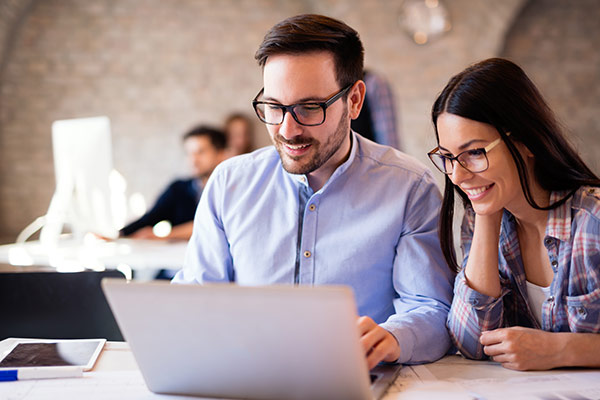 A terrific enterprise resource planning ( ERP ) solution boosts productivity, reduces operating costs, and fosters a measurable return on investment (ROI). But with so many options on the market, how does your business decide on which is best?

The 2019 VSO™ for ERP conference is a rare opportunity to see several demo sessions from top-tier ERP vendors, as well as have one-on-one meetings with vendor representatives. What normally takes months of research, is tackled within three days at the event.
"Anyone shopping for a potential new ERP system should do themselves a favor and attend this event. The presentations were extremely informative and professionally delivered… has us second-guessing our original strategy." – SCM Materials Manager, Transport Equipment Manufacturer
Additionally, attendees have access to Technology Evaluation Center's (TEC's) 25-year expertise and data-driven approach on how to simplify their ERP evaluation, as well as how to manage challenges and roadblocks throughout implementation.
Why the VSO for ERP is this year's must-attend ERP conference
The VSO™ for ERP is the longest-running enterprise software evaluation, comparison, and selection event in North America. The 29th edition promises to continue its tradition of helping to clarify the software selection process for CIOs, department leaders and decision-makers invested in finding the best-fit ERP possible.
Meeting Top-Tier ERP Vendors Under One Roof
An impressive group of world-class vendors will gather at the ERP conference, awaiting your specific questions about their solutions. Unlike some types of business software conferences, the structure of these interactions and demos are conducted in a neutral environment, and without the sales pressure.
Access to TEC's Vendor-Neutral Expertise
TEC is a vendor-agnostic company whose mission is to help companies evaluate and select the best software solutions according to their business needs. At the conference, TEC's experts will be on-site to share advice and best practices on achieving ERP success with its data-driven software evaluation and implementation tips.
Networking With Industry Peers
Networking with industry peers remains an invaluable way to discover success stories, and nightmare scenarios, experienced by fellow enterprise leaders. The VSO for ERP is a unique, pressure-free environment to mingle with other business leaders, software experts, and top-tier vendors, which hastens the learning and knowledge gathering process.
"I was able to get 2 months of research completed in 2 days," — IT Director, Life Sciences Products Manufacturer.
For more information on the 2019 VSO for ERP Conference, or to register, visit the event page, or call 1-800-496-1303 ext. 404.
About the VSO™ for ERP
Created in 2007 by Brij Image and Information, the VSO™ for ERP has helped to simplify software selection for hundreds of companies throughout the US and abroad. Brij's goal was to create an event where qualified manufacturing and distribution organizations could come and witness multiple ERP packages in action, without sales pressure. What started as a unique concept has grown into an international brand that continues to change the way manufacturing and distribution organizations approach their software selection projects.
About Technology Evaluation Centers (TEC)
Technology Evaluation Centers is a leading, global consulting and advisory firm, helping organizations select the best enterprise software solutions which support their specific business objectives.
TEC leverages a vendor-agnostic, data-driven software selection process that reduces the time, cost, and risk associated with enterprise software investments. TEC business software experts guide stakeholders through an advanced decision-making process, combining our proprietary software selection engine, TEC Advisor, with the experience and expertise of industry professionals.
Over 3.5 million subscribers benefit from TEC's industry-leading research and detailed information on more than 1,000 software solutions across all major application areas. For more information, please visit www.technologyevaluation.com
https://erpnews.com/v2/wp-content/uploads/2019/09/ERP-2.jpg
400
600
katie
https://erpnews.com/v2/wp-content/uploads/2018/10/[email protected]
katie
2019-09-17 13:30:44
2019-09-17 13:59:09
Making the Leap to ERP? This 3-day ERP Conference Will Save You Time and Money