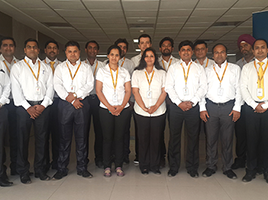 The pride of Turkey in Enterprise Resource Planning  (ERP) software market, IAS aims to serve the Indian market after Turkey, Germany and UAE with its software development and consultancy office established in India, the leading country of world informatics business, in addition to 27 countries, over 700 corporate clients and 25,000 users.

Established in 1989 in Karlsruhe, Germany, IAS (Industrial Application Software) operates in 4 countries with 9 offices. Having continued its software improvement and R&D studies in Germany and Turkey until now, IAS developed its own software development platform TROIA, getting ahead of its competitors in innovation and technology. The increase in the number and countries of worldwide customers and in line with developing technology requirements, it aims to meet such requirements with its new office established in India.
Recently aiming for India, based on its services provided in 27 countries in 14 different languages, Industrial Application Software has also accomplished this target. IAS, after completing its technical and personnel infrastructure in early 2016, has begun serving its clients in Pune, India. With its new office, the Company desires to accelerate the development of its flagship caniasERP, increase the international awareness of its brand, and serve its current clients better.
Why India?
Preferring India for having a position in international arena, reaching new markets and answering the requirements of global customers, IAS, at the same time, will benefit geographically from being located at a spot that can provide services on a 24 hour basis instead of responding from a single time zone in a single region.
After the Software Development and R&D centers in Germany and Turkey, the Company, with the office opened in Pune, India, will be improving and marketing its product caniasERP in India from now on. In addition to particularly responding to clients in the Gulf and Asian Region instantly and having the upper hand in competition in those markets, it also aims to provide 24-hour online and one-on-one services to all the world.
IAS India Infrastructure
The training of a total of 25 employees was provided by software experts from Turkey in the project undertaken by IAS Istanbul Senior Software Engineer Aykut Belli with his title "Country Manager". The sales and marketing team has started the promotion works of caniasERP.
Localization Studies for India Continue
Localization studies required for presenting caniasERP in India market continue for "Human Resources" and "Accounting" modules in a fast pace. These 2 modules, formed in accordance with the laws and legislations of each country, is now being made suitable for India with these updates. IAS plans to have a number of clients over 100 within the next 3 years.
https://erpnews.com/v2/wp-content/uploads/2016/11/IAS_india_200-1.png
200
268
webmaster
https://erpnews.com/v2/wp-content/uploads/2018/10/[email protected]
webmaster
2016-11-18 00:00:00
2016-11-18 00:00:00
IAS India in Informatics Market