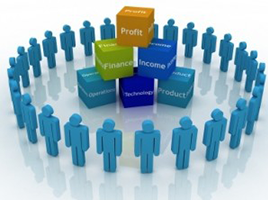 A report released this week highlights the challenge businesses face in making lengthy and expensive ERP projects worthwhile, with 50 per cent achieving less than 50 per cent of their projected .
Panorama Consulting Solutions surveyed 246 enterprises from 64 countries during 2011 and found that companies do not take time to identify costs and potential cost savings, and therefore find it difficult to measure the overall financial impact.This equates to benefits not being realised.
The report highlighted that 27 percent of respondents realised only 31-50 per cent of projected benefits; 17 percent realised 0-30 percent of projected benefits; 4 percent stated that they had not experienced any measurable benefits; and 2 percent said that they had not put a business case together.
The availability of information was the main benefit noticed by organisations (75 percent), followed by increased interaction (60 percent) and improved lead times (38 percent).
Enterprises were least impressed with improved supplier interaction, with only 23 percent citing it as a benefit.
Panorama states that to improve on these unfavourable results, orgnisations need to put together solid business cases that better identify the overall return on investment.
"A business case captures potential cost savings and establishes a baseline that can be measured against to determine improvement," reads the report.
"While organisations want to know when they will realise the total cost of a project, a good organisation will capitalise on the ERP system. Not only should a company calculate their breakeven point, but also its overall return on investment," it continues.
"It is important to understand how the project has made the company more profitable over time".
https://erpnews.com/v2/wp-content/uploads/2015/12/erp-benefit-268-1.png
200
268
webmaster
https://erpnews.com/v2/wp-content/uploads/2018/10/[email protected]
webmaster
2012-03-08 00:00:00
2012-03-08 00:00:00
Half of ERP projects achieve less than half of projected benefits