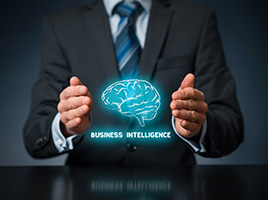 BI is undoubtedly where the future lies, but choosing the best system for your company is critical
For start-ups or those companies unable to budget for an in-house data scientist, a business intelligence software system can be a make-or-break factor. BI enables companies to predict what products to discard from their line-up, which marketing campaigns hit the right note with customers, what the future holds for the industry, and much more. In short, business intelligence is undoubtedly where the future lies, but there are several things to consider when a CIO wishes to choose the best software for their company. As is usually the case, thorough research will go a long way in making sure that the decision made is the right one for the organisation.
Business Intelligence visualisation – The most obvious trend in 2017 across different sources and analysts, seems to be the role played by visualisation in business intelligence. Visualisation is becoming an integral part of good business intelligence. A survey by the Business Application Research Center asked 2800 consultants, BI vendors and users their opinions on the most relevant trends and the consensus among them seemed to be data visualisation. While it is easy to understand theoretically, how is its practical implementation brought about? There are a few easy steps to remember.
Ask if data visualisation is truly required for the information that is being highlighted
Consider the audience during and not after the decision making process – Is the information being presented to data scientists or company executives?
Apply best practices such as navigation, icons, animations and interactive elements regardless of the target audience
The main goal should be to tell a compelling story that captivates the audience in the presentation. A storyboard or timeline could be of use
In-house or cloud based? – We are well and truly moving towards a mobile and cloud-first world. In 2017, a key question concerning BI will be whether to keep it in-house or move it to the cloud. The answer to this question is nuanced and depends on a number of factors. The first aspect to consider is security. If the information is highly critical or confidential like customer data, it may not be wise to entrust the data to a third party cloud server. On the other hand, if the data is relatively less important, a third party server could be sought out. Another aspect to look out for is speed – if a large volume of information must be processed every day, bandwidth would become a critical issue. A cloud-based server would not be able to offer customisation beyond a limit. Lastly, cloud-based BI is typically more cost-effective than in-house cloud platforms
Self-service BI – Self-service BI has become quite popular in the 21st According to a study by Boston University, 83% of business professionals said easy data access was a key deciding factor in self-service BI. In the BARC study mentioned above, self-service BI was seen as one of the top three trends. Self-service BI tools allow employees of an organisation to report on their own terms. This is anticipated to increase the volume of data under consideration, thereby increasing analysis accuracy as well.
Data governance – Along with self-service BI, data governance is expected to play a major role in ensuring efficient data management, high-quality data, improved inter-departmental collaboration and better insights. Data governance can be considered a streamlining process that allows more efficient information access and greater visibility leading to improved analytics. If this visibility is used right, organisations will be able to manage data more efficiently and identify potential threats and opportunities while boosting their performance.
Automation with artificial intelligence – With respect to BI, a recent area of focus is the rising demand for automation and artificial intelligence. A new technology by the name of 'Helical Insight' claims to be the world's pioneer open source BI framework, and it can analyse data and make decisions simultaneously.
The founder believes that AI can eventually replace data scientists to create visualisations and reports. With the help of search-driven analytics, anyone can become a data scientist as a result of neuro-linguistic programming. This software can be an extension of the self-service BI tool demand.
By: Abhishek Budholiya
https://erpnews.com/v2/wp-content/uploads/2017/05/Intelligence-268x200-1.jpg
200
268
webmaster
https://erpnews.com/v2/wp-content/uploads/2018/10/[email protected]
webmaster
2017-05-08 00:00:00
2018-11-14 14:10:27
Five Business Intelligence trends you should consider in 2017