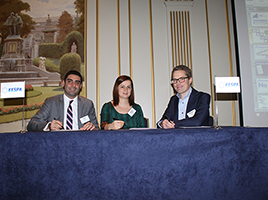 A cooperation agreement has been signed at the General Assembly of the European E-Invoicing Service Providers Association (EESPA) in Brussels, between Basware, one of the leading companies in Europe in e-Invoice and financial services, and eFinans for e-Invoice projects and foreign trade operations in Turkey. The agreement is the first agreement Basware has signed in Turkey with a Turkish e-Invoice service provider. This is the second cooperation agreement eFinans has concluded with an EESPA member.
Basware customers will now be able to integrate directly to the Turkish Revenue Administration (TRA / GİB) e-Invoice System easily through eFinans and issue their e-Invoices 100% compliant with the Turkish Tax Code. eFinans and Basware are ready with their top quality service to cater clients' needs in export and tax-free transactions out of Turkey as such are obliged to be issued as e-Invoice as of 01/07/2017 (voluntary us between 01/01/2017 and 30/06/2017).
eFinans will be offering its 10-year TRA compliant storing service to Basware customers, as it has offered to all its customers with no exception since its establishment. Moreover, eFinans clients will also be able to benefit from services as QNB Finansbank e-Invoice loans and e-Invoice pledge-pool facilities.
About eFİNANS
eFinans was founded in 2013 by QNB Finansbank and Cybersoft's partnership. eFinans understands the necessities of Turkish taxpayers in digitization and presents quality-based compliant services with its creative, innovative, and highly-secure electronic applications. In collaboration with 130+ integrated software companies, eFinans offers online solutions to its customers in e-Invoice integration, e-Invoice service provision, e-Invoice archival, e-Ledger, e-Archive (e-bills), registered electronic mail (REM) services together with banking services at its e-Trade portal Finans Yıldızı. eFinans is the first Turkish member of EESPA, first Turkish collaborator of the Billentis Report in 2014, 2015 and 2016. eFinans continues its work on new applications such as e-Dispatch to be officialized by the Turkish Revenue Administration.
About BASWARE
Basware is the global leader in providing networked purchase-to-pay solutions, e-invoicing and innovative financing services. Basware's commerce and financing network connects businesses in over 100 countries and territories around the globe. As the largest open business network in the world, Basware provides scale and reach for organizations of all sizes, enabling them to grow their business and unlock value across their operations by simplifying and streamlining financial processes. Small and large companies around the world achieve significant cost savings, more flexible payment terms, greater efficiencies and closer relationships with their suppliers. Find out more at www.basware.com
https://erpnews.com/v2/wp-content/uploads/2016/12/basware-efinans-268x200-1.png
200
268
webmaster
https://erpnews.com/v2/wp-content/uploads/2018/10/[email protected]
webmaster
2016-12-20 00:00:00
2018-11-14 14:11:19
eFinans is Growing Stronger with European Business Partners