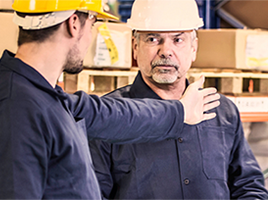 ERP News – worldwide – erpnews.com – As a process manufacturer, you want the best and most comprehensive set of capabilities from your investment in Enterprise Resource Planning (ERP) software, especially since your operation is complex and often requires some level of customization. A partnered ERP software solution provides many benefits to a process manufacturer like you.
1- Taps into specialists' expertise ­– An ERP software vendor that enters into a partnership with an independent software vendor does so for one major reason––to improve its product offering. A certified partner concentrates on a specific area of expertise; researching, developing, testing, and refining their specific software. Your partnering ERP provider is expert at integrating this software within its ERP solution. Any ERP vendor that downplays the benefits of a certified partner and portrays itself as the one and only solution to meet all needs solely through its own efforts should be viewed with skepticism. It likely will fall short on the types of functionalities, flexibility, scalability, and ease of integration that you desire.
2- Keeps pace with industry standards and regulations – Process manufacturing uses complex procedures and faces stringent, and increasing, regulation. It requires an ERP software solution designed specifically for process manufacturing by a vendor familiar with your specific industry. Your investment in an ERP solution should see you through years of changing business requirements. An ERP software vendor utilizing certified partners who keep current on industry trends and innovations is more likely to respond to your growing and changing needs over time to increase your competitive advantage.
3- Delivers add-on capabilities to meet your size and specifications – The right ERP software provider works with you and its certified partners to deliver the capabilities you require, including customizations. These capabilities complement the ERP provider own offerings to seamlessly deliver "industry best" answers to your needs.
Capabilities a certified partnered ERP software solution might deliver:
Barcoding and Labeling allows you to meet industry standards and regulatory changes with an easily deployed, secure, and configurable software that creates and automates barcodes, labels, encoded tags, and more.
Customer Relationship Management (CRM) software helps you connect with and create loyal customers, target marketing efforts, and accelerate sales with a customizable software solution. Automate business processes, monitor the total customer experience, and manage it according to your strategic goals.
Electronic Data Interchange (EDI) is accomplished through a simple, scalable, "end-to-end" solution. Modular architecture, ease of use, and affordability make this an attractive way to go paperless.
Globally Harmonized System of Classification (GHS) is managed with compliance software to assist you with requirements for safety data sheets authoring and distribution, shipping, labeling, volume tracking, safety, and management of waste.
Human Resources and Payroll functions and procedures, such as records maintenance and government reporting, are handled smoothly and effectively with current technology. The solution helps to keep confidential and sensitive employee information accessible and secure to protect your valuable human asset.
LEAN compliance is addressed with the software's ability to view your company's operations and compliance efforts. Review and analyze data through automated processes designed to help you make data-driven decisions.
Nutritional labeling is accomplished easily, effectively, and accurately with up-to-the-minute nutritional data provided through extensive research and made available for your compliance needs and industry requirements.
Quality Management – includes in-process and customer-specific testing may be expanded through the use of a certified partner's configure-to-order quality management solution, which manages and tracks all QC activities, including International Organization for Standardization (ISO) compliance.
4- Provides partnership extras – The dedicated partnership of your ERP solution with the independent certified partner makes for extra benefits as well. You have a point-of-entry into your own conversations with various software experts, often facilitated by your ERP partner. Also, your ERP solution often features educational seminars and public webinars with featured guests from the certified partner.
https://erpnews.com/v2/wp-content/uploads/2016/03/partner-268-1.png
200
268
webmaster
https://erpnews.com/v2/wp-content/uploads/2018/10/[email protected]
webmaster
2016-02-29 00:00:00
2016-02-29 00:00:00
Discover the Benefits of a Partnered ERP Software Solution