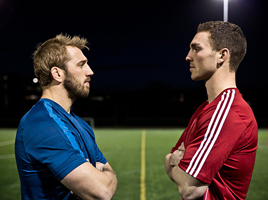 On 7th & 8th of March 2017 at the MK Dons Stadium in Milton Keynes, 12 of the UK's leading ERP vendors will go head to head in a battle to demonstrate their ERP solutions to attending businesses. The event, the Lumenia ERP HEADtoHEAD™, is the brainchild of Sean Jackson, MD of Lumenia Consulting. "One of the pitfalls you can fall into when selecting a new ERP system, is to rely solely on the vendor's sales demo because each vendor will have their own interpretation of what they think you are looking for, which makes it difficult to make comparisons." says Jackson, "What you need the vendors to do is to follow a predefined demo script so that you can compare apples to apples. This is the core idea of the ERP HEADtoHEAD™".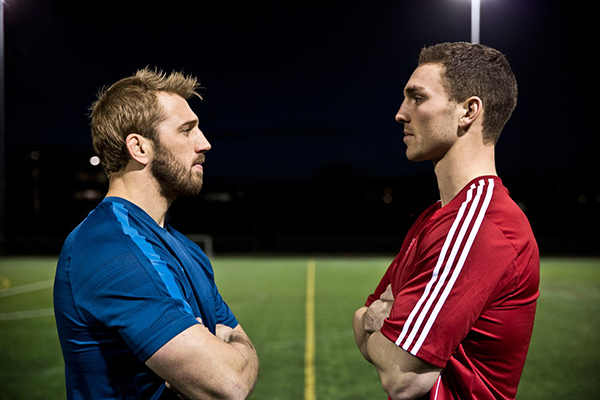 The event taking place over two days, is facilitated by Lumenia. On Day 1, all vendors take part in an 'Elevator Speech' to introduce themselves.  During this session, vendors present a summary of their USPs to convince delegates why it would be a good idea to attend their demonstration. Delegates then choose to attend demonstrations focused on Finance, Production, Procurement, Sales Quotation or High Volume Sales business processes. Each demonstration lasts 90 minutes and is based on pre-defined high-level scripts. Attendees will also have the chance to listen to a panel discussion from industry end users sharing their experiences of implementing an ERP system. Day 2 includes an engaging vendor-independent presentation from Lumenia Consulting on 'ERP Benefits Quantification'. Delegates will also be able to discuss project-specific requirements with vendors in the expo area.  Attendance at the event will be limited to organisations that are potential buyers of ERP, making it an ideal opportunity to network with others about to embark on a similar journey.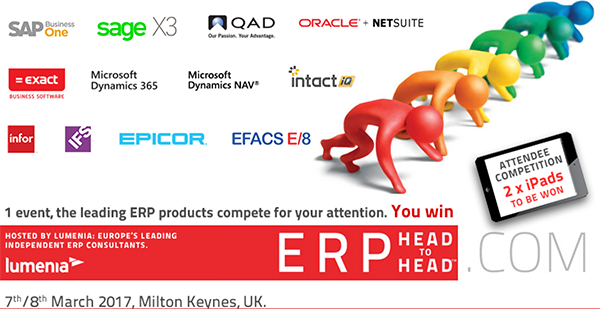 Vendors such as Infor, SAP, Oracle, Microsoft and Sage will be amongst the 12 demonstrating their ERP solutions to attendees looking to upgrade, replace or implement a system. Over the years, attendees have included leading manufacturers, distributors and retailers from a range of industries. Comments from among the 130 attendees at the last event included: "Very good idea; all vendors were well prepared and the like for like comparison was very helpful"; "Very useful to view a number of products over 2 days. Well worth taking time out to visit the event".
For further information, pricing discounts and to register check out the event website www.erpheadtohead.com
https://erpnews.com/v2/wp-content/uploads/2017/02/headtohead-268-1.jpg
200
268
webmaster
https://erpnews.com/v2/wp-content/uploads/2018/10/[email protected]
webmaster
2017-02-28 00:00:00
2018-11-14 14:12:08
12 leading ERP vendors in competitive head to head battle